Here are some pictures of real, underwater creatures that are either super nasty, creepy, pretty, or funny enough to keep you entertained. Some would argue that these facts are "WTF" facts (What The Fish facts)
They say we have only researched 5% of the ocean floor–we are lucky to have discovered the following useless knowledge about the creatures of the deep:
The Barrel Eye Fish
Honestly, this fish is god damn unbelievable. The top of it's face is literally transparent so you can see it's brains and stuff. Honestly, the inner mechanicians of its mind are an enigma.
THESE ARE UN-EDITED.
They literally look like they have a small solar system in their brains. They probably do. In case you are wondering, the transparent part is to help the fish see through it's skull.
Sarcastic Fringehead
I have found a part of the internet made up excllusively of marine biologists that think the name "Sarcastic Fringehead" for this fish is like the funniest thing ever said.
WHAT IN THE HELL ARE THEY LAUGHING AT? That might be the scariest thing I've ever seen! I bet they find Stephen King Novel's are hilarious too.
Peanut Worm
This creature of the deep goes out to all you ladies out there. It should've been the Ron Jeremy worm. That doesn't look anything like a peanut!
Black Swallower
…The black Swallower pretty much made this list because I thought the name sounded dirty.
It can stretch it's throat and stomach to fit big ass things in it. The preceding sentence was purposely written with vague vocabulary so that there for the sexual innuendo.
Frilled Shark
Some call it a "living fossil" because it, at minimum, dates back to the Late cretaceous period (95 million years ago), and quite possibly the Late Jurassic Period (150 million years ago).
You'd pretty much never see this alive in the ocean (BECAUSE IT WOULD HAVE ALREADY KILLED YOU) (kidding) because it's so deep. We pretty much know it exists because of carcasses washing ashore. It's been seen rarely by deep sea dives in its natural habitat.
Goblin Shark
Does it kinda look like a goblin to you?
As you have probably guessed, its name DOES NOT come from looking like a goblin, but because when it eats, it gobbles like a turkey.
Unfortunately, I am kidding.
It's named Goblin Shark because its big ass nose makes it look ugly as fuck like those pricks from Harry Potter's Gringots.
Giant Sea Spiders….
suck.
The deepest spot in the ocean is the MArine Trench off of the coast of Japan. Because of this, normal sized creatures have Gigantic creatures apart of the same family (like Colossal squid, Jellyfish, etc.) Being large helps them survive because food is sparce at the bottom of the ocean so the bigger they are, the better they can fight and demolish their prey.
So yeah this is a real thing:
Everyone ever:
More!
um………………………………………………………………………………………………..excuse me……………..  ……………………………………………but like…………………………………………………………………………….  ………………………………………………………………………………………………………………………………………      ………………………………………………………………………………………………………………….fucking Ew?
Hydromedusa
This is a hydro medusa jellyfish. It can come in many forms and can look really aesthetically pleasing. Amazing that these jellies can produce that light in places that barely, if ever, get sunlight. Here is a rainbow hydro-medusa:
Cant help but notice that the transparent part resembles the reservoir tip of a condom.
Game of Thrones Brittle Starfish
This is a type of brittle star that is named after GoT because the people that discovered in in New Caledonia thought it's sharp thorns make it look like the Game of Thrones crown.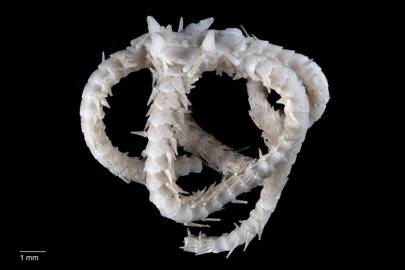 I mean… I guess. But the explorers from New Caledonia (????) best be prepared to answer the call when real GoT fans ask, WHICH CROWN, MY LORD?
Deep Sea Hatchetfish
These fish literally look like they are the dead, zombie versions of dory. They shuld make an R-rated spin off of Finding Dory where Dory's parents come back to haunt her and, because of her short term memory, she doesn't realize they're her parents and was never in harm's way!
Don't show this to children:
Found Dory…in my god damn nightmares.
Scale Worms
These are worms so evolved that they can survive the harshest environments around the world, stemming from living in the deepest parts of the ocean.
That's cool and all, but they are straight up fricking gross and scary looking:
Is that a scale worm or a shocked grandma? These are literally making me feel too ill.
They look like this when they "turn their mouths inside out" to eat.
Goodbye.
P.S. Here is your casual under-water lake. No big deal…just a lake in a lake.