Co-creator of Modern Family Christoper Lloyd told Entertainment Weekly that a significant character dies next season:
(Entertainment Weekly) "We're handling some bigger life events in this season," he says. "We do deal with a death, which is certainly a topic that families have to deal with, and on television, it's not easy to do because that's a heavy subject. But at the same time, it would seem unusual for a family not to go through it."
Not surprisingly, Lloyd isn't revealing who is headed six feet under — or if it's one of the main family members — but he promises that he/she is a "significant character on the series" and the death "will be a moving event — and an event that has repercussions across several episodes."
My face after immediately knowing who it would be.
Unfortunately, we dont have access to the cast of Modern Family's contracts.
Fortunately for you, I tend to watch Modern Family when nothing better is on TV.  I am pretty much an expert on shows that you settle for. Have I watched them completely out of order? Yes. Do I know the exact chronology? Time is a circle (Source: Arrival). Still questioning if I know the timeline? Getting Excited?
For starters, you can pretty much safely assume that none of the younger kids dying. Haley and under are safe because it just would not work for the show's genre. A parent losing their child is the worst thing that can happen to them. Everyone in the show would be effected immensely, and there is no way to make it moving, while somehow being funny. I dont think audiences would love the death of a child either.
Gloria: Frontrunner to die. See ya 6 feet under!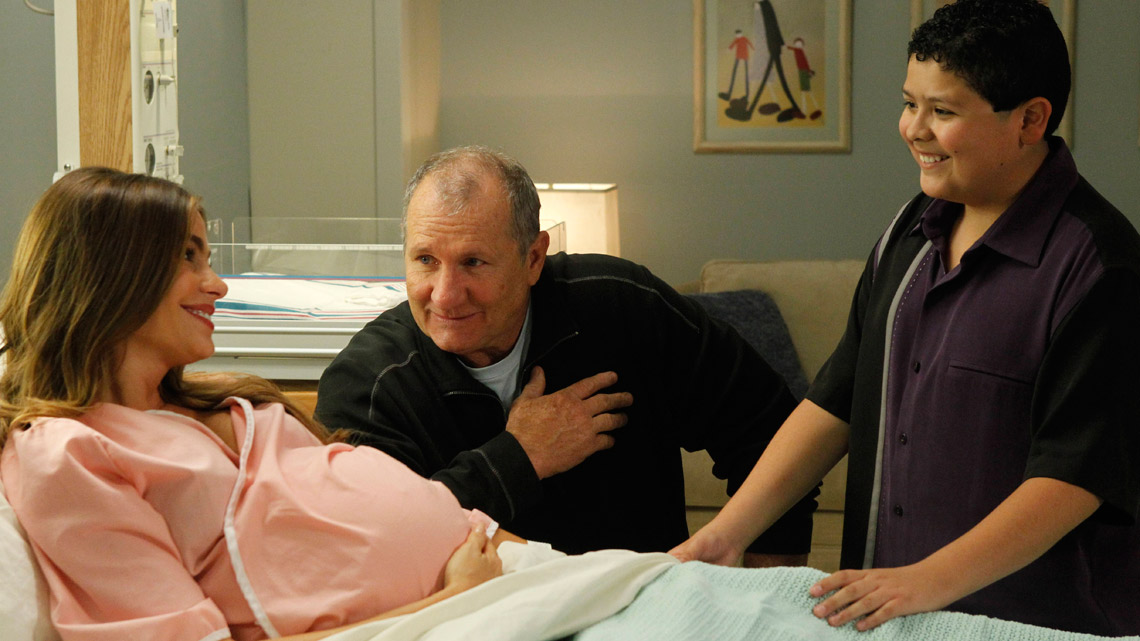 Gloria's walk through the shadow of death makes the most sense as her and Jay's immediate family has the biggest opportunity to keep the lighthearted feel, while still empathizing for the family's loss. This is how the family dynamic's would play out should Gloria pass on:
Jay would put on a tough exterior as to not worry Mitch and Claire and their families.He'd never want to talk about it, while silently suffering, looking at photos of her every night  before bed. Mitch and Claire would yap on the phone about how to approach Jay and be there for him, but both feel that their relationships with Jay guarantees uncomfortably. Phil would respond by being very, very upset, but his heart would break for Jay. Phil would inappropriately hug Jay and tell him that he's there for him, to Jay;s annoyance.
Mitch is bound to have an awkward talk with Jay, urged by Cam. Jay and Gloria's other son, Joe, is just too young to understand what is really happening. Manny will be deeply distraught, but is already somewhat of a drama queen so it sort of works. I can just see him reciting Edgar Allen Poe in his dark room for two months.
The things that could happen are endless. I can see Gloria's family in Colombia attempting have Gloria return to Colombia for a burial in her home country with proper religious rituals. Jay would fight to keep her by her kids.
Easily, you can see Manny's dad attempting to get custody of Manny. Jay'd fight for Manny since he wants him to stay, in addition to Manny not wanting to be forced to move to Colombia. Their bond would strengthen and seal forever. Additionally, I can easily see Jay trying to get Manny ready for adulthood and its responsibilities out of fear that he doesn't have enough time left to live until Joe can be on his own. Then, Manny would need to be there for him.
A situation where Jay shows a moment of vulnerability would definitely happen somewhere in there between he and an unlikely witness to said vulnerability that strengthens their bond (I can picture this happening with Mitch, Claire, Phil, or Cam).
I really cant picture any other situation playing out.They would not kill Mitch or Claire, or anyone from the Claire-Phil family as it would be too emotionally draining. And it would be such a Cop out if Phil's father dies because they already did an entire episode where his Mother dies (Season 4, Ep. 24 "Goodnight Gracie").
Some think Jay could pass as he is the oldest and it would tie up the show in a nice little bow as the family comes together to try and help Jay, who upon his death, smiles because he has fully prepared his children to deal with the world and their family, while fulfill Gloria and Cam's wishes of not feeling like some sort of outsider.
Cam is the only other character you could make an argument for that they'll be written off as he is sorta on the outside, relatively.
His death would require Mitch to step to full time duties with Lily while working. Mitch would rely on his family more and more for help, making everyone closer.
So yeah, see ya Gloria. Sorry for the typos. DUECES !