Product placement is a tricky thing for shows to pull off. You really need to work it into your show in a way that flows well. You don't want it to be so obvious that your audience can blatantly tell that something is product placement, but you don't want it so camouflaged that no one notices it. There's nothing ore annoying than when a show is so obvious with its product placement, kind of like in the Truman Show:
The office could have written a manual on the proper way to place a product.
SecondLife:  Remember that episode where Dwight creates an online avatar for the virtual world, SecondLife? Apparently, Second Life is a real, online virtual world. Technically, LindenLab's, the creator of the game, refuses to call it a game. Unlike most multi-player online games, there is absolutely no set objective or task. It is just a virtual world to live in. Ironically, the episode that features SecondLife is called "Local Ad." The product placement in this episode was rated 8th in the top 10 most effectively placed products in 2007. Dwight really conveys the message of what the product is: "It is not a game, it is a multi-user virtual environment."
To make the product placement even better, Jim doubts the game in the beginning, and converts to an enjoying-user by the end, playing up just how fun it is. While Secondlife at its peak had a record 36 million created accounts (2013), SecondLife still reports 600,000 regular users to this day. That's higher than I'd ever imagine to be honest. I don't know a single soul that uses SecondLife.
Call of Duty: Are you annoyed as I am about not realizing that the famous video game was some product placement? When Jim moves to the Stamford branch, he joins a sales team that plays Call of Duty to try and team build.
Jim plays like an absolute fucking noob, but everyone is from Stamford is solid and they all love it. I am annoyed that I didn't realize that this was advertising because it's now so fucking obvious. The entire episode is pretty much about them playing CoD.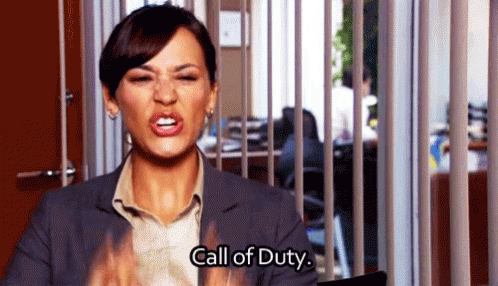 Although, the story apparently fucked up because Jimmy Halpert was supposed to have never played Call of Duty before. Shout out to a random reddit user for finding this:
Staples: Okay this one I don't blame you or me or anyone for not catching this one considering they always bash Staples. But in reality they don't bash Staples at all. In fact, when they have bad things to say about Staples is that they don't like staples because they're costs are so low that Dunder Mifflin cannot compete. So basically it's one big ad. Everytime Dunder Mifflin tries to say that they have better customer service than Staples or Office Max, they refer to them as "The Big Guys" or "The Major Corporations."
Remember the episode where Kevin uses his new, powerful shredder to see everything it could shred? Yeah, that was one big clever advertisement for Staples. The shredder is a Staples brand. Now you understand why Kevin went and shredded a ton of stuff, because the show was advertising how powerful the shredder is. The shredder even shreds a CD-Rom.
Cisco Phones: every single phone in the show is from the Cisco brand. Every office I have ever worked in has used Cisco-brand phones, so something must've worked somewhere. Then again, I've only worked in a variety of different law firms, so maybe it's just a lawyer thing. But there is no shot "lawyer-things" are real things, right? Could you get a more specific niche?
HP: Most of the products used in The Office are HP products. Again, every office I've ever worked at has used HP computers, probably for cost-efficiency (imagine if a company had to buy hundreds of Mac's for its computers…that would be insanely expensive. Apple should really look in to cutting costs for Mac products when buying them in bulk for businesses because I really feel like they're missing out on a lot of business there–especially because the entire world is in universal agreement that Mac's are better than HP's).
Gateway Computers: I really don't know what Gateway computers are but am Including it because it was on Wikipedia. Just acting on my journalistic integrity.
Hooters: Michael Scott's favorite restaurant was a nifty piece of product placement that the producers finessed into the show. If you told me that this wasn't product placement, I'd probably believe you because it just makes sense that Michael Scott's favorite restaurant is Hooter's. The fact that he thinks it's so funny, and somehow an appropriate place for a work lunch is all you need to know about Michael Scott. There's like four places that would work as his favorite restaurant for Comedic purposes. For example, you could see Chuck E. Cheese or Dave n' Busters working (also, is anyone else just noticing their weirdly similar names). I could even see BubbaGump Shrimp being his favorite restaurant because he can't stop doing Forrest Gump impersonations when he's there.
Sandals Resort: When you re-watch the Sandals episode(s), it's blaringly obvious that the show was paid for advertising. But if you didn't know it, you'd never be able to tell–despite the fact that Michael Scott impersonates someone using an Advertisement style voice:
TripAdvisor: Another one that might've slipped under your nose, but yes, they too worked with the Office. As a joke, Jim and Pam go to stay at Dwight's new bed and breakfast that offers a unique experiencing of staying at a beat farm. Throughout the episode, Dwight often mentions how important every TripAdvisor review is as it is the "lifeblood of the agritourism industry."
For most of the episode, Dwight is very depressed about Angela leaving him. At the very end of the episode, Jim and Pam give Dwight a great review on Trip Advisor, which briefly makes him happier. Later in the episode, Dwight seems back to his old self. Kind of obvious now that there is meant to be an association between Happiness and TripAdvisor.
Olympic Wire and Equipment: Uh, duh…ever heard of it?
Yeah neither has anyone ever. Unless you worked in the warehouse of a company that manufactured a product that required a machine that made paper, hay, or cotton into bails. The warehouse of the Scranton office was filled with Olympic balers. I wonder how many people realized that the baler was part of the advertising.
Things That We're NOT Ads But Everyone Thought hey Were
The Ipod: Michael buys an Ipod for Ryan as his secret Santa gift, despite going over the $20 limit. Wikipedia says there is a full 4 minutes of screen-time showing the Ipod, but the entire episode revolves around every office-member fighting for the Ipod. Seems like an ad. Surprising that it isn't.
Chili's: Despite being famously involved with The Office, Chili's did not pay The Office for any sort of advertising. the producers actually approached Chili's about being allowed to use their restaurant and name in the show, and Chili's agreed so long as they got final say about what went into an episode (to make sure nothing bad was said about them). One of the scenes in "The Dundies" episode, Chili's rejected one of the scenes causing a last minute rewrite. It's a good thing as well because that episode is perfect down to the damn credits.
It's sort of brilliant that the producers used Chili's and Apple in their episodes. It makes you think, "oh come on…this is obviously paid advertising that they chose to incorporate to make money." But the fact that those companies did not end up advertising with the show sort of muddies the water…it makes whether or not something is an advertisement ambiguous–it gives the producers a lot of freedom to fit in a logo whenever they want.