Remember the child actress that was in like everything (Because of Winn-Dixie, Bridge to Teribithia, Race to Witch Mountain, Charlie and the Chocolate Factory, Soul Surfer…need I go on?)
Yeah, she is starring in a new horror movie. Also, she is so hot. That is a fact that needed to be said. It's possible that every male in their early 20's developed a little celeb crush on her at one point.
I'm getting off topic. Anyway, while filming her new horror movie in Espana, she is certain that she was haunted by a ghost, thinking that it had a connection to a "really creepy" little statue of a woman in her room. The Soul Surfer claims that the ghost was constantly turning on the shower and flickering the lights. Robb says that one time, the shower turned on for so long that there was fog in her bathroom, and the mirror revealed writing on it–though her translator told her it was just a grocery list.
Now, to the casual observer, one might think Robb should maybe take a break from the horror movie role's. Or go to the loony bin. But we at KillerTakes have a different take.
I wish the ghost was trying to murder her because this could then be KillerTake's Killer-Take. Though all our takes are killer, you just don't get opportunity for a play on of words like this one. But I get to make the joke anyway just by explaining the hypothetical situation, so we'll take that W.
Anyway, the ghost was trying to bang her, no doubt. The ghost would turn the showers on so that he could see her naked, duh. The lights? Casper obviously just wanted to see that booty in the light.
As for the grocery list…that was just to an excuse to get her to go to the store for some lotion so he could spray ectoplasm all over her while she sleeps.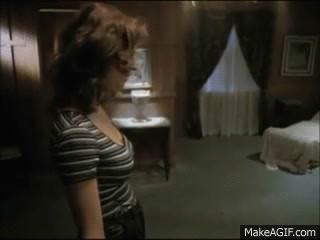 This case of the paranormal is open and shut–no need to call the best paranormal investigators since the ghost busters: Zak Bagans and the Ghost Adventures crew. People think that ghosts are always murderers. But hey, can you blame him for being a horn-dog? Or as the Spanish say, "perro-cuerno."
Don't quote me on that.